posted on 17 Feb 2014 22:34 by vareety
Hi. My name is Varie. I'm 26 and going to be a teacher in a secondary school.

On the last saturday i had gone to meet my favorite person and went to Central Pinklao, spreading love around by shopping all i want. Late at night before i go back home, i met a foreigner staff at Aphrodite. He speaks English pretty fun and introduce me a delicate peeling mask made from Dead Sea.

I took a try at the booth. The peeling mask has quite high price but it's reasonable using only once a week and can use for a year long. I got promise with the staff to send photos of my face after using the peeling mask every week for special price and he will teach me some Hebrew too. The peeling mask is a medical product having international FDA. There is also Thai explaination on the packiaging :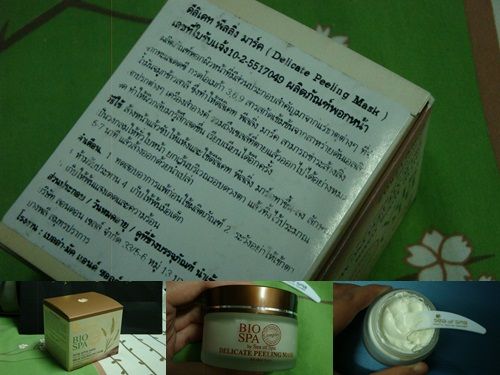 Using the peeling mask : Apply the mask on the face skin. Leave it about 20 minutes.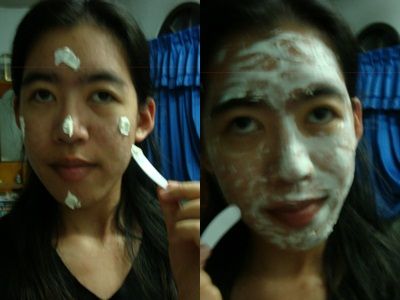 In 20 minutes waiting I have reviewed my stuffs got from shopping at Central Pinklao. There was most books and DVDs.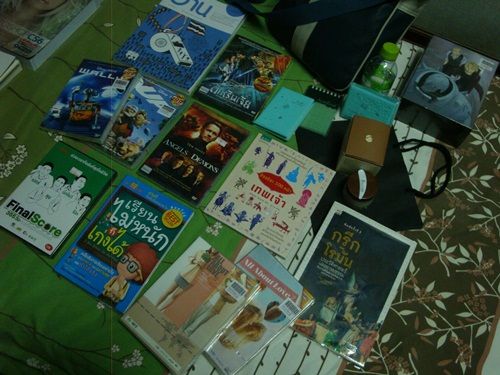 From left, a politic magazine, a popular chinese movie, pocket idea notebooks, an anime limited boxset, 2 Disney Pixar DVDs, Angels & Demons DVD, a book about gods in several cultures, a book about Greek-Roman, Thai movie and a book about teaching and how to study, and 2 love songs DVDs for being in love.

After 20 minutes, the white mask was going deep into the skin. I had to rub it out so it's peeled. Then i took shower and wash my face. I feel so amazing that the face was absolutely not oiled and it's also moisturized and i had to do nothing more about my face. I want to apply the mask on my body too but it's more valued to do that. I went to sleep happily and wake up checking my skin that seem better than the past night.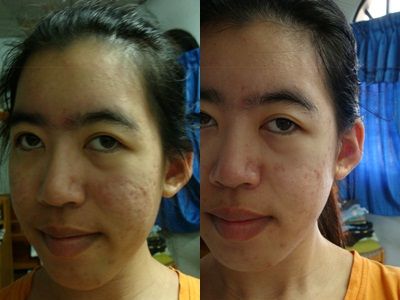 Usually, I use Pond's facial foam to clean my face everyday. It removes some oil and protects my face from increasing acne well. But since I've tried this peeling mask, I just know how the face without oil and well moisturized is. One trial week passed, there has been no any little acne born on my face. However, i have no hope about the scar because it came from beauty clinics that tried to dig all the acnes on my face up. The facial foam can protect my face from big acne and i have to wait the skin curing itself from the scar.

This Saturday is the second time to use the peeling mask after a week pass. I couldn't wait to use it again and have tried a little on Wednesday once. The process was the same, apply on the face, wait 20 minutes and rub it out.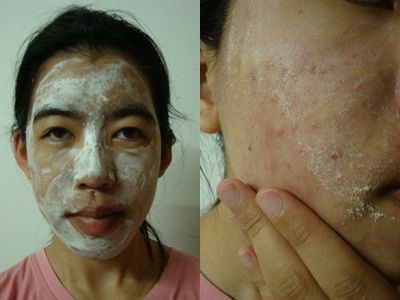 After I wash my face I try to take some photos to show how the skin is but the scars on my cheeks steel the scence. My face is soft and moisturized like how the last Saturday night was.

On Sunday I take photo again because I feel that the skin is still moisturized. Small acnes on the face go smaller so I couln't dig it like usual so I leave them for the peeling mask to manage this.

Thanks for the staff at the booth Aphrodite for introducing me this peeling mask. He told me not to use laser to cure the acne because it will make the skin more sensitive. I am already one of the victim so I could say this. Using the peeling mask cost 6,500 baht a year but taking a laser course twice a month costs more than this.

Now I'm happy trying new facial tool, peeling mask. I may take photos of my face every week after I use it. I feel the skin is going better but the photo cannot tell. So, I will update new photo only if it can show the better skin obviosly. Thanks Aphrodite Bio Spa Peeling Mask from Dead Sea coming Thailand for me to try new thing and talk with new friend :)
- - - - - - - - - -

Hi. This is a photo update of the 3rd week using the peeling mask.

Start with Sunday morning after peeling the mask and sleep,

the scars on my face are decreasing! No photo edition here.

My face's got plain surface as it has never been so long. This last not so long time as I wake up this morning it's gone.

So this is another photo to compare,

My face is already better than the last week obviously!
Thank you :)
edit @ 24 Feb 2014 21:55:09 by -Varie-
- - - - - - - - - -

The 4th week, clearly.




I'm so happy :)
edit @ 2 Mar 2014 21:11:42 by -Varie-